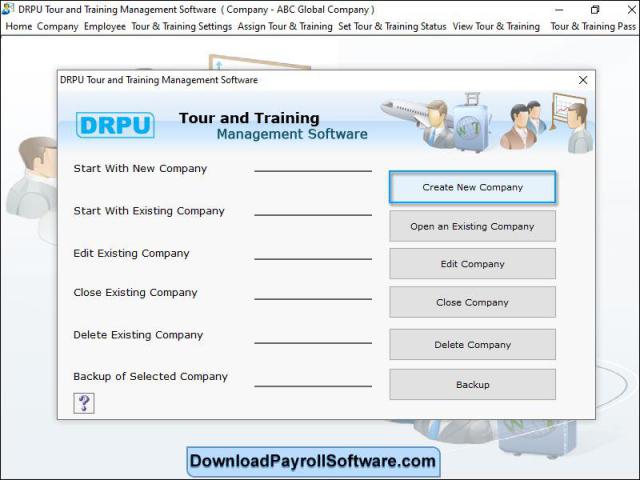 Tour and Training Management Tool generates employee's tour and training reports including various details like training courses, tour types, and training provider information. Software is easy to use and easily schedule or track company's trip and training needs as well as requirement in real time without any extra efforts. Application facilitates the company representative to track tour and training information such as sales, time, industrial, tress management, and many other training types in a professional way. Software allows the company managers, company administrators, HR representative, and other authorized user to assign tour and training requirements by various employees' details like Employee Name, ID, salary, address, designation, and department. Employee Tour and Training Management Application has an advanced password protection feature that restricts the unauthorized users to access the company records and employee information. It provides the data backup facility that allows the user to retrieve the company and employee training database records that are lost due to accidental deletion, failures, damages, or any other data loss events. Program helps the user to manage company and employee training records by minimizing the paper work.
Important Features
Software can create employee's tour and training passes in few mouse clicks.
Software can easily generate the important tour and training records for better decision making.
Software has a simple GUI and inbuilt help manual that helps the novice users the employee training records easily.
Software can easily manage the large number of employee's tour and training records at one place with the advanced automate feature.
Application provides the facility to connect the selected company database records to view and edit its information with the help of data connectivity feature.
Software allows the user to print company employee's training records by adjusting the flexible print settings.
Software link: https://www.downloadpayrollsoftware.com/dwnpayrollsoft/tour-training.html
Download link: https://www.downloadpayrollsoftware.com/downloads/tour-training-demo-setup.exe
Job details
| | |
| --- | --- |
| | Hire someone |
| | Download Payroll Software |
| | Undefined |